Members of the Euless Citizens Fire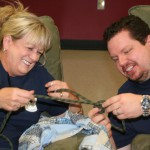 Academy Alumni Association are graduates of the Citizens Fire Academy, a 39-hour hands-on course that teaches the philosophy, strategies and training that shape the Euless Fire Department. They are educated volunteers who directly assist the Firefighters by supporting the department and fostering a good relationship between the City of Euless and its citizens.
Members have the opportunity to serve in a variety of ways. Hydrating Firefighters on the scene of a fire, assisting with educational programs, hosting fundraising events, providing badges to retiring Firefighters and distributing smoke detectors to the needy are just a few of the ways they serve.
The Euless Citizens Fire Academy Alumni Association meets at 7:00 pm on the fourth Monday of every month. Meetings are held at the Fire Department Administration building at 201 North Ector in Euless.
Elected Executive Board
President: Lou Baum
1st Vice President: Joe Robinson
2nd Vice President: Diana Williams
Secretary: Beverly Hawkins
Treasurer: Dave Shanahan
Parliamentarian: Jerrie Keller